(Last Updated On: August 22, 2021)
Is 5G a health hazard to humanity?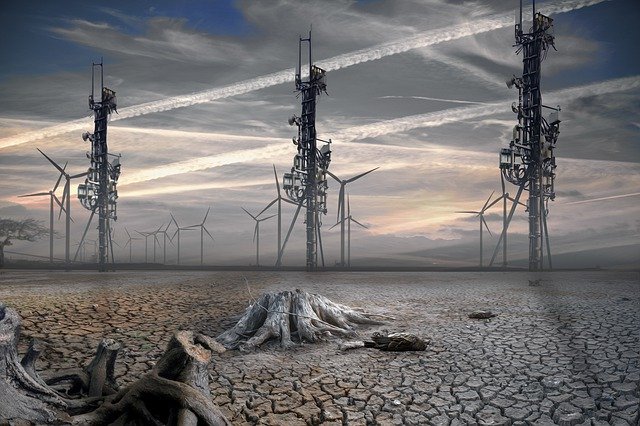 Are we conscious of the price we pay for having 5G in our lives? There are thousands of studies on the danger of radiation that show us that the total creation, fauna, flora, and humanity will suffer. In the countries where 5G is already present, people have complained of strange symptoms like headaches, hurting bones, and sleeping problems. In the meantime, bees are dying, and songbirds are disappearing. Cows in big farms run amok. Radiation sensitivity is becoming a new ailment.
For both my other websites, I have written different posts on the danger of 5G.
The danger to the Ozone layer.
YouTube video of February 8th, 2019, Senator Blumenthal questioning GEOs of communication industries.
This is an absolute must-read.
5G-A Toxic Assault on the Planetary Web of Life
YouTube video of 29 April 2020. Dr. Rashid Buttar telling us that 5G causes cancer. This video got lost to censorship, sad but true.
This is a new video from 7th July 2020. It has unfamiliar elements but some interesting facts.
It was taken down. This happens often on my website. Sorry about that.
This is a YouTube video of 20 April 2020. Dr.Thomas Cowan explains the impact on our health when new things were invented. We were a lot better off without these things, and it is time we understand the connections. They banned this video in many places. I tried to post it on Facebook, but it was impossible.
.

.
This is news from the 30th of July 2020. Our night skies are being dirtied by the satellites of Elon Musk. No wonder astronomers are getting cross. Here you can read what happened.
This is a YouTube on 20 December 2019. Harvard Professor Shoshana Zuboff explains very well the downside of our modern life. We are all connected, and that means our every move is being watched.
.
.
This YouTube shows the connection between 5G and COVID-19.
.

.
We have to keep up to date. This video is from 17 August 2020.
.
.
More than a year has passed since this video came out in May 2019. It has become a lot worse since then.
.

.
New age weapons? I think they have been here longer than we think. It is that one does not hear too much about this. Have a look at this video from 7 December 2018.
.

Here you see a video of September 2020. A very long and strange beam. What could it be?
.

.
Today is the 12 September 2020, and I came across this video of Dr. Judy Wood. This YouTube video is from 11 September 2014. The 2 videos above this one, I get the feeling it is all connected. Have a look and form your own opinion.
.

.
5G is dangerous, but they still push it upon us. This is interesting and worrying news. No more insurance coverage? Please read the following article. 
In this article, you will find a really long video, but I think it is well worth your time. It is connected to some directly above videos. Well, you will see.
.
Today I came across this extensive list on Facebook. Have a look. I think it is very interesting.
https://www.americansforresponsibletech.org/scientific-studies?
Today I got a link from my friend Sonny. I think this is joyful news. Could it be that countries are waking up to the dangers of 5G?
Hawaii understands the dangers of 5G.
Not all countries seem to understand the urgency to curb the spreading of 5G. The following is a Dutch documentary film with English subtitles. It explains how we are creating a new illness, EHS, caused by radiation.
.
Is radiation the asbestos of the 21st century? from Hjalmar Ilmer on Vimeo.
Here is an article on 5 December 2020. It confirms some previous videos on military weapons. This is frightening news and shows we are not going in the right direction. Here is the link.
On 20 November 2020, they published an article in Environmental Health Trust. Many places say no to 5G. Here you can read this good news.
They have fooled us for so long. It is a real scandal. The health of the population is at risk, and the authorities have known this for decades. Top right: you can click for different languages. Read the evidence here.
Defender Shield is a company that has some very useful products for reducing radiation. They wrote the following article, which I think is very interesting. Feng Shui and EMF.
More and more people suffer from EHS. Here is the short video of a French woman who could not continue with her normal life anymore. She had to move far away to a so-called "white zone". It is getting more difficult to find them as 5G is spreading across the world.
.
On August 15, 2021, Environmental Health Trust published important news. A judge considered that the health of children, grown-ups, and the well-being of the entire creation had not been taken into account installing 5G. You can read the story here.
I mean, we only have ourselves to blame that these things are happening to us. We are losing our privacy. The following video is from 10 June 2021 and is 20 minutes long. Well worth your time. Think carefully about who/what you give access to your home.
The things we are doing to Mother Earth are terrible. I see her as a living entity. Her health is so important. Flora, Fauna, and Humanity are connected.
Photo Source: Pixabay