(Last Updated On: May 23, 2023)
Was it all a plan? Slowly but surely details come to light. Important information was denied to all of us. Making people fearful they are easily manipulated. Censorship was/is an everyday thing. Will it get any better? I do not know but I am certain we have to remain vigilant and not accept any "news" presented without thorough investigation. As long as YouTube videos disappear it remains scary and worrisome.
Do we know what is in vaccines?
More than a hundred years ago, Rudolf Steiner wrote the following:
"In the future, we will eliminate the soul with medicine. Under the pretext of a 'healthy point of view', there will be a vaccine by which the human body will be treated as soon as possible directly at birth so that the human being cannot develop the thought of the existence of soul and Spirit.
To materialistic doctors will be entrusted the task of removing the soul of humanity. As today, people are vaccinated against this disease or that disease, so in the future, children will be vaccinated with a substance that can be produced precisely in such a way that people, thanks to this vaccination, will be immune to being subjected to the "madness" of spiritual life. He would be extremely smart, but he would not develop a conscience, and that is the true goal of some materialistic circles.
With such a vaccine, you can easily make the etheric body loose in the physical body. Once the etheric body is detached, the relationship between the universe and the etheric body would become extremely unstable, and man would become an automaton, for the physical body of man must be polished on this Earth by spiritual will.
So, the vaccine becomes a kind of arymanique force; man can no longer get rid of a given materialistic feeling. He becomes materialistic of constitution and can no longer rise to the spiritual".
Rudolf Steiner (1861-1925)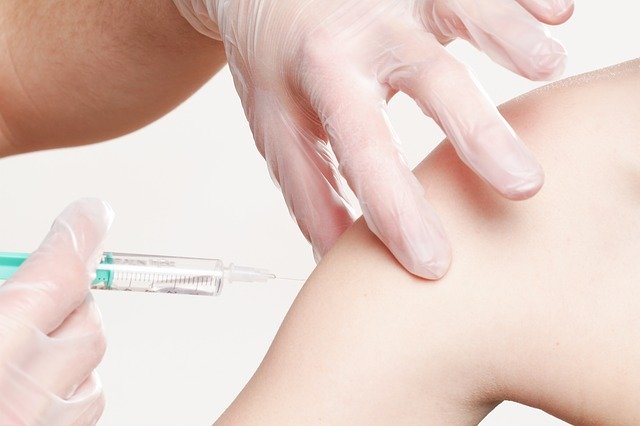 The first combined vaccine was used to vaccinate infants and children in 1948. It was a vaccine to protect against multiple diseases. It was a combination of individual diphtheria, tetanus, and pertussis (DTP) vaccines together in one single shot.
In those early years, one heard little about adverse side effects yet. Over time babies have received more vaccine combinations and more often. By the age of 2 years, they will have received at least 27 shots and up to 6 shots in a single visit. This could mean a strain on the small immune system. Here you can read the history of vaccines.
One out of every 3 births is by the cesarean procedure. It is a pity, that the baby misses out on extra help when starting life. During vaginal birth, the baby receives a helpful dose of good bacteria. This helps boost the baby's immune system and protects the intestinal tract. Sometimes parents, or the hospital, might plan the birth to their convenience, but it is not to a baby's benefit.
Are there alternative solutions for increasing your immunity?
I often wonder if we are not exaggerating. Are all these vaccines really necessary? When you ask Google, it will present you with lots of articles. These articles explain what is in the vaccine, and the emphasis is that it is not dangerous.
It is a cocktail of mainly chemical things. Why should we inject ourselves with chemicals? Are there no better and more natural ways?
This article is from May 20th, 2020. Natural Health 365.
Bill Gates and vaccine research.
YouTube video of May 20th, 2020 – Arrest Bill Gates.
.

.
What is the prevalence of autism in the U.S.?
They estimate that 1 in 68 children (in the U.S.) have autism. The gender specificity shows that 1 in 189 girls and 1 in 42 boys (5 times higher than for girls) have autism.
The following is an interesting article dated April 24th, 2020. The U.S. Government lost a landmark vaccine lawsuit in 2018. This has not been in the mainstream news much. Too sad as also this information has disappeared.
This YouTube video from April 18th, 2020 makes you think, and it throws up quite a few questions. Are vaccines really harmless? I just now discovered this video has disappeared. It is sad we are being dictated to what we can and cannot see.
.
Ches Power, have a look at her website: magnesiumandhealth.com called my attention to Dr. Andrew Wakefield. He was the director of the 2016 documentary VAXXED, which was banned in May 2020. I was able to see that film just before that happened. It was a story that affected me.
I found a video where Dr. Andrew Wakefield is being interviewed, a YouTube video of 15th January 2020.
When you ask parents who have an autistic child, they have no doubt that the MMR vaccine caused this condition.
This YouTube video is from the 23rd of March 2019, you will hear different opinions, and form your own.
This is an excellent post by Dr. Sal Martingano on May 29th, 2020.
It starts with the Spanish Flu and what happened afterward during the following years. A look behind the scene uncovers things one does not hear about in mainstream media. Keep an open mind and form your own opinion. Always look where the money goes and who benefits.
The following article is from Global Research 2 July 2020.
This revelation by Dr. Stoian Alexov, President of the Bulgarian Pathology Association, is such an eye-opener and will change our view on the COVID-19 crisis.
The following YouTube video is from 26 June 2020. Please keep in mind the above article by Dr. Stoian Alexov. Why should we be eagerly waiting for a vaccine? Something is definitely very wrong in our world. Oh, well, once more a video has been banned.
.
Interesting video you should not miss.
.
.
Here is a brand new article from CNN. Take your time to read it. A lot of important information is within.
The following is an article about an old sin. The consequences of this vaccine have been enormous.
They published this article on 17 February 2016, in Humans are Free, by writer Alexander Light. I have to add something to this article. The title is misleading. It is called a clickbait title. Inside you will find the report of the CDC which says that 10 to 30 million of the vaccines were contaminated. Still, it is a staggering figure.
The CDC admits having injected 98.000.000 people with a dangerous virus.
Today is the 27th of December 2020. All the countries in Europe have started today with their vaccination program. The following video is The Colbert Report from 23 December.
Sadly, also this video fell victim to censorship.
This is an interesting video from December 19,  2020. Dr. Paul Thomas and his study with data on vaccinated children compared with non-vaccinated children. The difference is remarkable, but this doctor is being attacked for letting people know about this.
Again a video is being censored, too bad.
A new video of 7 March 2021. This is the first court case. Our freedom is taken and we should get it back. Sadly, this video is gone. It was probably too direct.
Michael and I have decided not to get vaccinated. We live in the south of Spain. We are 69 and 70 years old and very fit. We do not take any chemical pills. The authorities have not called us yet and if they do, we will say no. I came across the article by Dr. Hotze. I put it on Facebook and immediately it was fact-checked. This article explains in easy-to-understand language why getting vaccinated is a bad idea.
Here you can read the article by Dr. Hotze.
This is a very important YouTube video from 16 April 2021.
Professor Sucharit Bhakdi M. D. explains vaccines and blood clots.
.
.
I believe our immune system is capable of big things. Give it the tools so it can function at its best. Nutritious food and an overall healthy lifestyle will be helpful. I have decided I will not take the vaccine. Instead, I have taken Ivermectin. The following video of 8 minutes is from 19 April 2021.
The following information is hair-raising. It is a brand new video from 11 June 2021. Spike Protein and Immune Escape. Dr. Robert Malone (Inventor mRNA Vaccines) This video is 15 minutes long, do not miss it. If this does not ring your alarm bells, I do not know what will. I hope this video will remain.
Only a few days after posting this video YouTube took it away. Incredible! This is the inventor of the mRNA vaccines giving his opinion. Well, YouTube also censored an American press conference of the Senate. I wonder what the government is going to do about that.
.

.
I left this grey YouTube video on purpose so you can see what I mean. Luckily there are other sources where I found an interview with the inventor of the mRNA vaccines.
The HighWire.
I live in Spain and have not heard about a document yet. In America, there is a document that they want you to sign if you do not want your children to be vaccinated. Be careful and read the following link to why you should not sign this document.
This is an article from 30 June 2021. It appeared in Reuters. You cannot claim damage after getting your Covid-19 shot. I hope you are aware of this. Do not fall into this black hole.
The following video, rather long but well worth your time, is a shock. It shows what happens when humans interfere with nature. It also shows that greed stands way above health, your and my health. The moment I put it on Facebook it was fact-checked.
.Food from the microwave oven is no good. 3 Samples, cold milk, heated milk, and milk heated in the microwave oven. People would drink 1 sample and then their blood was tested under the microscope. Cold milk and heated milk did not present a problem.
After drinking the milk heated in the microwave oven the blood cells were not normal anymore. They behaved erratically and were sticking together in strange shapes.
The following video shows you another human invention with similar results.
The Dr. Rath Health Foundation published an article on 30 April 2021. It is so obvious that vaccines are a huge business. Here you have the link to this upsetting fact.
Have you seen the film VAXXED? The second film has come out. Everybody should see this film before being vaccinated. Especially when parents have to decide whether to have their children vaccinated or not. Here you can see the film. Sadly it was taken away.
This video is from 3 September 2021. Dr. Michael McDowell explains, very well, a couple of things. I find it hair-raising to find out what humans are capable of doing. This new vaccine is very different from what we got, I am 71 when we were young. We are not being told the truth. 
This is Del Bigtree on HireWire. What he talks about is one of the reasons why I decline to be vaccinated. It is a long video but well worth your time. It shows we have been taken for a ride for a too long time.
This is a new article with information on people who got injured by the vaccine. It is a sad story. Time is passing and these stories are surfacing more and more.
Why do we not trust our God-given immune system? I wonder why. Could it be that first of all humans like to fiddle with nature? Secondly, we should not hinder Big Pharma to make billions at the cost of our health. Let's face it, a healthy person is no business. We would have been spared so much hardship and sorrow if we had done it the Amish way.
Is there a plan emerging? I think so. Europe is on the way to mandating vaccination even if it is contrary to the constitution. The fear level is being kept high so people say yes to any measure forced on them.
Slowly but surely we are saying yes to things we normally would not accept ever. Look at this video, on the front row you can see the King and Queen from Spain. History repeats itself.
The following film explains very well how come we are in the situation we are in right now. For those who have not understood the details, I really recommend looking at the Plandemic. It is banned from most places. It holds a lot of tell-tale information.
The following video explains, in easy-to-understand language what this vaccine will do in your body. The Covid vaccine cannot be compared with the ones we all got while being young. Stay away from this poison that will ruin your God-given immune system.
Here is a good article with a video included of Dr. Malone.
Do you need more proof than 1000 peer-reviewed medical publications that state vaccines will harm you? You can read it here.
A short video of Dr. Malone. He warns parents not to vaccinate their children. The damage caused is unrepairable. You can see it here.
It is now May 2022 and a lot of things have come to the surface. Some are very worrying I must say. The following article tells you about shedding and why it is a danger to unvaccinated people.
It is August 2022 and more things have come to light. The following video is hair-raising. Listen carefully and you will understand the plan.
I have not posted for some months. More new things are coming to light. It is all extremely sad. I came across this documentary today, the 26th of November 2022. It is difficult to watch and heartbreaking. Still, we have to be informed. Here you have the link to the video.
I arrived in 2023 and I hope you did too. Many things are coming to light showing we were fooled and told lies. I came across a new article with statistics from around the world. It shows clearly what happened when the population was getting vaccinated. Read the article here.
Update
We have advanced in time and more things are coming to light. This is good as people are waking up realizing that what we had been told is far from the truth. But one should be aware that a lot of manipulation is still happening on a big scale. Here you can read an article that shows just that.
I have a post on Bill Gates, you might like to see it, go here.
Photo Source: Pixabay